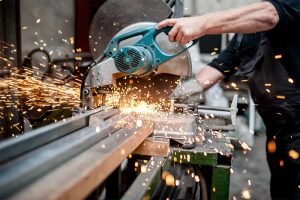 Miter saw cutting is useful for cutting metal in forms other than a sheet. Saw cutting works well for cutting tubes, bars, and rods.
A miter saw is used to make accurate crosscuts and miters (beveled joints) in a workstation. There is usually a large mounted circular saw blade, mounted on a hinge, that is pulled down in a quick, controlled motion to make the cuts.
Types of materials that may be used with saw cutting may include stainless steel, aluminum, copper, titanium, or composite materials.
Our Saw Cutting Equipment
| Make | Model | Max Size | Type |
| --- | --- | --- | --- |
| DoALL | C-230 DGSA | 9″ diameter rounds, and 11″ x 6.5″ rectangles | Semi-automatic miter cutting saw |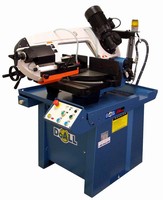 We have a DoALL Model C-230 DGSA semi-automatic, miter cutting saw, capable of cutting a variety of angles. This miter saw can cut rounds up to 9 inches in diameter, and rectangles up to 11 inches. by 6 ½ inches at 90°. The head swivels 45° left or 60° right for cutting versatility.